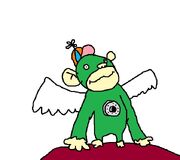 Abemohad is a Complien monkey.
Appearance
Abemohad may seem like a friendly ape at first. However, a closer look will reveal a cannon in the center of its chest! It wears a helicopter hat at all times. Compologists claim they wear it to hide its protruding brain, which cannot fit inside its head due to sheer size. It has wings, though only for the males, so it can collect birds, its favorite treat.
Info
Abemohad was once used for military warfare on its native planet of Complanet. There were originally 5 variations of Abemohad, each a different color and wearing a different hat. Unfortunately, they turned against each other for no reason. The Abemohad we see today was the only one with any sort of weapon which is why it exterminated all other creatures.
Growth
Abemohad
This Complien does not grow.
Trivia
The oldest Abemohad was 140 days old. It was nicknamed "The Lad" and eventually died of eating a poisoned berry. Some claim this was done by the second oldest Abemohad, who fell off a cliff.
Female Abemohad do not have the ability to smell.
Spells
Abemohad's Moveset

Spell

Element

Effect

N/A

N/A

N/A

N/A

N/A

N/A