Cashrebot
is the cash register Complien.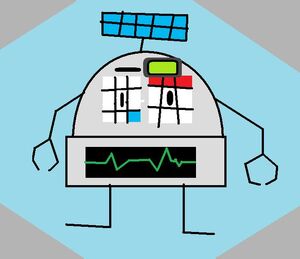 Appearance
It looks like a cash register but instead of the thing that shows how much change the customer deserves is a solar panel. It also has a robotic mouth where the handle to open it is. It has arms and legs.
Info
It keeps Coinbots in it. Same with Dollabots. If someone tries to hurt their young, it'll destroy it.
Evolution
Trivia
Its name comes from cash register and robot.
Gallery
Ad blocker interference detected!
Wikia is a free-to-use site that makes money from advertising. We have a modified experience for viewers using ad blockers

Wikia is not accessible if you've made further modifications. Remove the custom ad blocker rule(s) and the page will load as expected.