Home
Talk

1
1,587pages on
this wiki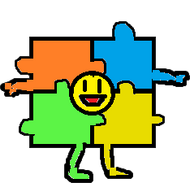 Activity
---
Welcome to Complipedia!
The next featured Complien you get to vote for! The current voting period is from Thursday, January 1st to Saturday, January 31st. Just go to the main page and vote on the poll that will be there. If you have any specific Compliens you want in the next poll, please contact an active admin before the 31st! The Featured Complien section will be updated with the most voted for Complien on February 1st. Also, if you haven't yet, don't forget to read the Rules. Enjoy the wiki!
Want to create a Complien right now? This box below is perfect to do so :)
---
Featured Complien: Gelatos!
Yang is the other half of Yinyang. It has a counterpart called Yin. Read more...
---
This wiki is about Compliens, creatures you can create.
Recent News
Vote for the best Complien!
The CUBC is over and will return again on 15/2/2015.
Featured Compliens
Which should be featured Complien in February?
Previous Featured Compliens
January 2015 - Yang
February 2015 - TBA
March 2015 - TBA
April 2015 - TBA
May 2015 - TBA
June 2015 - TBA
July 2015 - TBA
August 2015 - TBA
September 2015 - TBA
October 2015 - TBA
November 2015 - TBA
December 2015 - TBA
Top 10 Lists
Recent Activity
Affilates