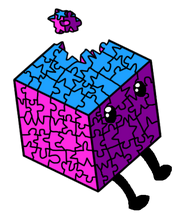 ---
Welcome to Complipedia!
The next featured Complien you get to vote for! The current voting period is from Sunday, November 1st to Monday, November 30th. Just go to the main page and vote on the poll that will be there. If you have any specific Compliens you want in the next poll, please contact an active admin before the 30th! The Featured Complien section will be updated with the most voted for Complien on December 1st. Also, if you haven't yet, don't forget to read the Rules. Enjoy the wiki!
Want to create a Complien right now? This box below is perfect to do so. Have fun!
---
Featured Complien: Gicabot!
Gicabot is the evolution of Slicobot and the final evolution of Cupcabot. Like its pre-evolutions, it is a cake Complien. Read more...
---
This wiki is about Compliens, creatures you can create.
Recent News
Featured Compliens
Which should be featured Complien in December?
Previous Featured Compliens
Top 10 Lists
Recent Activity
Affilates