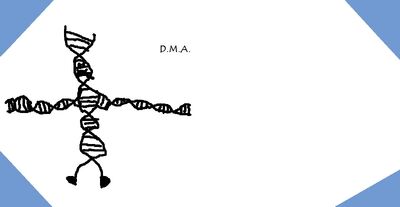 D.M.A is a Complien based off of deoxyribonucleic acid (D.N.A.). It evolves into Ciall. It is from the Life family.
Appearance
D.M.A looks like D.N.A with D.N.A arms. It has a face. It also has feet.
Info
D.M.As are found inside Cromuzons. They can only be seen through a microscope because they're so tiny.
Trivia
Their long name is Deoxyribomonster acid.
Gallery
Ad blocker interference detected!
Wikia is a free-to-use site that makes money from advertising. We have a modified experience for viewers using ad blockers

Wikia is not accessible if you've made further modifications. Remove the custom ad blocker rule(s) and the page will load as expected.