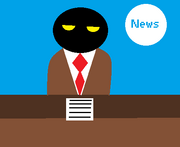 This is JMW News with your daily news. A group of Humanoids have been attacking villages in Yakhut. They were arrested and are now doing community service. They may have been trying to snatch the large shipment of Qworx Diamonds being shipped through the area. More on that later.
In other news, what appears to be a small meteoroid is drifting toward our planet. It is too far away to get any solid visual, but it is definitely heading toward us.
Ad blocker interference detected!
Wikia is a free-to-use site that makes money from advertising. We have a modified experience for viewers using ad blockers

Wikia is not accessible if you've made further modifications. Remove the custom ad blocker rule(s) and the page will load as expected.