Dollabot
is a Complien that evolved from a
Coinbot
. It evolves into
Cashrebot
.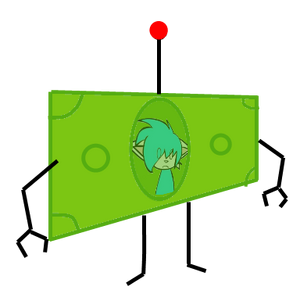 Appearance
A Dollabot is a Dollar bill, two robotic claws, legs, and an antenna.
Info
A Dollabot is an evolved Coinbot. It plays the same tricks a Coinbot plays, but has a slightly higher chance of success in doing so.
Evolution
Trivia
It's name comes from "dollar" and "robot".
Some Dollabots (like the one in the picture) feature Tornadospeed's avatar character.
It was technically made by both Tornadospeed AND CompliensCreator00, because CompliensCreator00 came up with the Complien but Tornadospeed created the artwork.
Gallery
Ad blocker interference detected!
Wikia is a free-to-use site that makes money from advertising. We have a modified experience for viewers using ad blockers

Wikia is not accessible if you've made further modifications. Remove the custom ad blocker rule(s) and the page will load as expected.