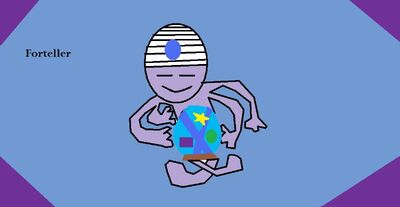 "I predict that I'll predict the future!"
~ Forteller
Forteller is a fortune telling Complien. It is the evolution of Psykid and final evolution of Crystaball.
Appearance
It looks like a purple person with 4 arms and a crystal ball.
Info
It always predicts correctly, but can only predict useless things, like the aforementioned "I predict that I'll predict the future!"
Evolution

Crystaball →

Psykid →

Forteller

Forteller →

Futredict
Trivia
Its name comes from fortune teller.
Legend has it that a Forteller was the very first Complien created by Bumbummeron, who subsequently cursed his entire species.
Gallery
Ad blocker interference detected!
Wikia is a free-to-use site that makes money from advertising. We have a modified experience for viewers using ad blockers

Wikia is not accessible if you've made further modifications. Remove the custom ad blocker rule(s) and the page will load as expected.