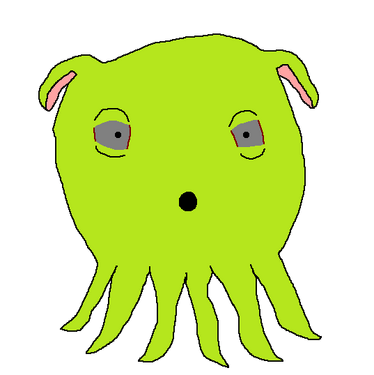 Geogiseblow is a rare Complien. His name comes from geogiseo, which is a part of the Korean words for 'there she blows'.
Appearance
He has a black outline.
He has tentacles for legs.
He is light green.
Info
Geogiseblow has the power to blow things from his mouth. He often blows fire, water, and other things. He can survive underwater by blowing oxygen. His six legs give him super strength. He can also combine some of his blowings to make other blowings, like combining fire and ice to make water, and air and strength to create tornadoes. Weaknesses Due to the way his arms combine into his body, he has small use of them.
Trivia
Although being tentacles, he often uses his side legs as arms for extra strength.
He can send messages through blowing wind or oxygen.
He is basically all the elemental types.
Gallery
Spells known
Geogiseblow's Moveset

Spell

Element

Effect

N/A

N/A

N/A

N/A

N/A

N/A
Ad blocker interference detected!
Wikia is a free-to-use site that makes money from advertising. We have a modified experience for viewers using ad blockers

Wikia is not accessible if you've made further modifications. Remove the custom ad blocker rule(s) and the page will load as expected.