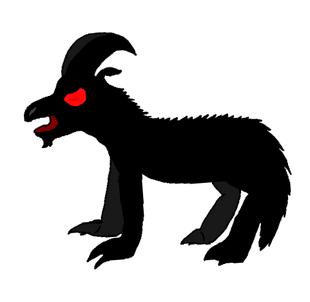 The
Goatmare
is one of three
Compliens
from
Magornia
.
Appearance
The Goatmare looks demonic, black goat. It have thick black hair witch feels like steel wool, and it also have glowing red eyes.
Info
Goatmares are uncommon creatures. They eat a person's or creature's dream with their abilities and leave a nightmare in its place. The nightmare is usually about the Goatmare itself. They can also use a weak form of teleportation.
Trivia
Goatmares were one of the first Compliens to be experimented on.
They are known to make a deep "BÆÆÆÆ" sound when hungry.
A Goatmare named Blueman appear in some Mogurian horror stories.
Spells
Goatmare's Moveset

Spell

Element

Effect

N/A

N/A

N/A

N/A

N/A

N/A
Ad blocker interference detected!
Wikia is a free-to-use site that makes money from advertising. We have a modified experience for viewers using ad blockers

Wikia is not accessible if you've made further modifications. Remove the custom ad blocker rule(s) and the page will load as expected.