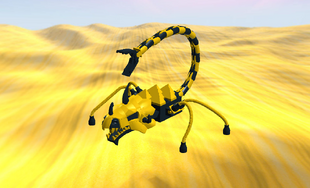 L.E.G. Oliver
is the
Complien
god of creation. He created the Compliens,
Humanoids
,
Mogurians
, the other gods, and everything else.
Appearance
He has a yellow armored dragon head and a long tail with a claw on the end. He also has four legs.
Info
Oliver was the creator of many places on the Complien world, but he never took the credit for creating them. Instead, he created the other Complien gods to take his place as gods and then created the Compliens. He later left and then created two more worlds, one he called Raeth and another one he called Magornia. Unfortunately, the Compliens here were not like he thought they would be. They were too savage and evil. He decided to leave them there, but for safety, created two gods to guard them. The Compliens on Raeth later renamed themselves as Humanoids and the Compliens on Magornia renamed themselves as Mogurians. When Oliver learned about this, he built a fortress in the Underworld to hide in and created Zeath and Rebirtha to guard it, with Legges to keep them happy. Oliver did this because he knew who it was that had corrupted the Humanoids and Mogurians. It was "Evil"
Trivia
The Compliens, Humanoids and Mogurians are all Compliens; it was "Evil" who made them evil and masterminded the Humanoids' attack and the later Mogurian invasion.
If Oliver should die, all of his creations would die with him.
Oliver can learn all spells. He already knows them all, though.
Gallery
Ad blocker interference detected!
Wikia is a free-to-use site that makes money from advertising. We have a modified experience for viewers using ad blockers

Wikia is not accessible if you've made further modifications. Remove the custom ad blocker rule(s) and the page will load as expected.