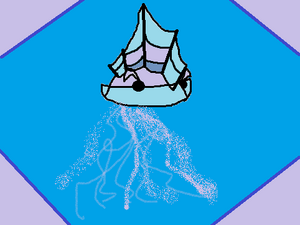 Manowar are jellyfish like creatures that float around the sea. It has a scale-like sail on its head. It also has stinging tentecles in many different looks and shapes.
Info
No info yet
Trivia
The name "Manowar" Comes from the name of the animal it is based off which i.e. Portuguese Man-O-War.
The Pokemon Tentacruel was originally ging to be called Man-O-War so this nearly has the same name as Tentacruel was going to called.
Ad blocker interference detected!
Wikia is a free-to-use site that makes money from advertising. We have a modified experience for viewers using ad blockers

Wikia is not accessible if you've made further modifications. Remove the custom ad blocker rule(s) and the page will load as expected.