Paant is an Art-type Complien.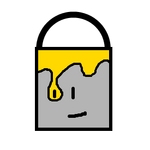 Appearance
Paant looks like a light gray bucket of paint with a face. Paint drips off the edges of the bucket.
Info
Paant is the source of paint in the Compliens universe. Paant can create a supply of any-colored paint. It can also change the color of any wet paint (once it dries, it's color cannot be changed). They are common around Palete, Paintur, Cannvis, Eesill, and Painbrush.
Trivia
It's name comes from Paint.
It also has paint over its eye, like Palete.
Spells
Paant's Moveset

Spell

Element

Effect

N/A

N/A
Ad blocker interference detected!
Wikia is a free-to-use site that makes money from advertising. We have a modified experience for viewers using ad blockers

Wikia is not accessible if you've made further modifications. Remove the custom ad blocker rule(s) and the page will load as expected.