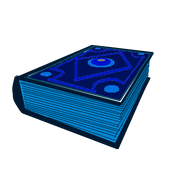 The
Pancarmina
is a book of every non-forbidden spell in the Complien world. Those who find it can use it to learn and cast spells, but only of their type. Its counterpart is the
Poncrumina
.
Trivia
Its name comes from the Latin words for "All Spells", but that name is not true.
It along with Poncrumina is the second oldest spell books next to the Pancerma books.
Pancarmina is the most biggest and heaviest book in the Complien Universe, because of all the spells it contain.
Ad blocker interference detected!
Wikia is a free-to-use site that makes money from advertising. We have a modified experience for viewers using ad blockers

Wikia is not accessible if you've made further modifications. Remove the custom ad blocker rule(s) and the page will load as expected.