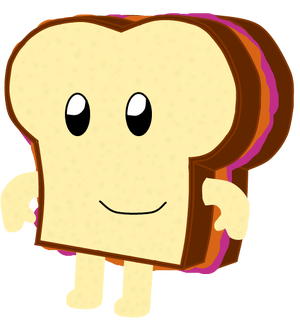 PeeBee-N-Jay
is a Complien based on a Peanut Butter and Jelly sandwich. It is the final evolution of a
Bredan
.
Appearance
A PeeBee-N-Jay looks like a layer of peanut butter and a layer of jelly in between two slices of bread, just like a PB&J sandwich. It has eyes, a mouth, arms, and legs.
Info
PeeBee-N-Jays can use their peanut butter and jelly to stick humanoids to their spot.
Evolution
Trivia
Their name comes from the acronym for "Peanut Butter and Jelly".
Despite evolving from Jelly'd, which is toasted, PeeBee-N-Jay does not have toasted bread.
It was the first in the Bread series to be made, despite being the final evolution.
Spells
PeeBee-N-Jay's Moveset

Spell

Element

Effect

N/A

N/A

N/A

N/A

N/A

N/A

N/A

N/A
Ad blocker interference detected!
Wikia is a free-to-use site that makes money from advertising. We have a modified experience for viewers using ad blockers

Wikia is not accessible if you've made further modifications. Remove the custom ad blocker rule(s) and the page will load as expected.