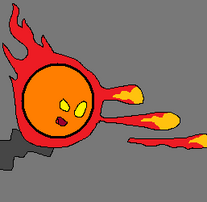 Pelt With Fire
is a Fire-type spell that causes the user to shoot three fireballs from itself. It is very weak, as each fireball only does ten damage. However, it is good for setting things on fire, since the fireballs always follow a very straight path.
Creatures that can use this spell
Compliens
Humanoids
None
Mogurians
None
Other Creatures
None
Ad blocker interference detected!
Wikia is a free-to-use site that makes money from advertising. We have a modified experience for viewers using ad blockers

Wikia is not accessible if you've made further modifications. Remove the custom ad blocker rule(s) and the page will load as expected.