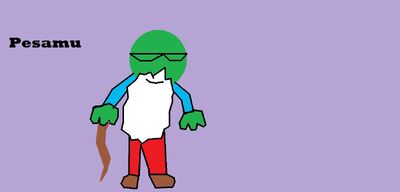 Pesamu (pronounced PEESE-amu) is an old, wise Complien.
Appearance
Pesamu is a green personoid with a large, bushy beard, a blue shirt, red pants, and brown shoes. He carries a crooked cane around and has glasses. His head is round and pea-shaped.
Info
He is peace-loving and speaks an older Complien language called Franol.
Evolution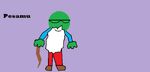 Pesamu
This Complien does not evolve.
Trivia
He was the first Complien Mr. Grille created.
Spells
Ad blocker interference detected!
Wikia is a free-to-use site that makes money from advertising. We have a modified experience for viewers using ad blockers

Wikia is not accessible if you've made further modifications. Remove the custom ad blocker rule(s) and the page will load as expected.