Atomes
with many smaller Atomes orbiting it. Only the Atome at the middle has a mouth. It grows from
Molecool
and is the final form of Atome.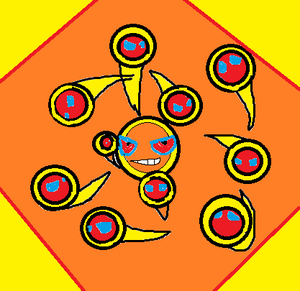 Appearance
Plasmorns have an Atome in the center with blue around its eyes, just like Atomes in Molecools. It is surrounded by smaller red Atomes with completely blue eyes.
Info
Little is known about them. Some say the middle Atome can control the smaller ones. They can shoot their Atomes at enemies.
Growth
Trivia
Its name comes from plasma.
On this wiki, Plasmorn has a badge.
This complien is on the $5000 Complidollar.