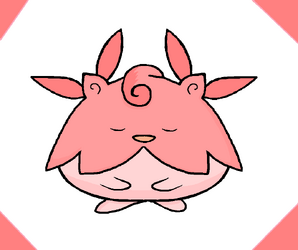 Plushion, the Cushion Complien, is a Plain-type and evolves from Ploft.
Info
Its fur is really soft to touch and radiates a gentle odor which soothes Compliens and people around it. Plushion loves to be used as a pillow by their owners, and will emit warmness and heat from the center of its belly. Because of its nature, Plushion tends to sleep and eat a lot, spending most of its time snuggling somewhere. It is usually always smiling.
Trivia
Like Ploft, its tail is not shown in the artwork.
Early art concepts showed its tail.
The word 'Plushion' comes from 'plush' and 'cushion'.
Slightly resembles the Pokemon Clefable.