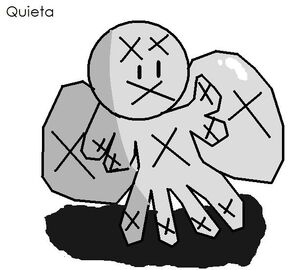 Quieta
is the evolution of
Mutent
. It evolves into
Soundless
.
Appearance
It has 4 eyes arms and legs. Each arm and leg has an x on it.
Info
It is more quiet than its pre-evolution. In fact, it has 2 air sacks on its sides that produce it air so it doesn't even breathe.
Trivia
None
Gallery
Add pictures.
Ad blocker interference detected!
Wikia is a free-to-use site that makes money from advertising. We have a modified experience for viewers using ad blockers

Wikia is not accessible if you've made further modifications. Remove the custom ad blocker rule(s) and the page will load as expected.