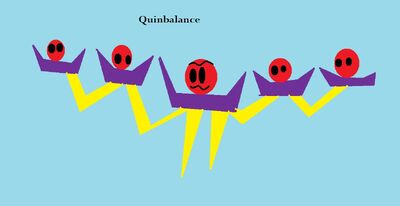 Quinbalance
is the final evolution of
Topance
.
Appearance
It looks like 5 purple platforms held together by yellow arms. Each one has a red ball-like head on it. The middle one has a unibrow and a mouth.
Info
It is able to shoot very hot fire.
Trivia
Its name comes from quintuple and balance.
It has excellent balance.
A Quinbalance named Joe Camera became a cameraman.
Gallery
Ad blocker interference detected!
Wikia is a free-to-use site that makes money from advertising. We have a modified experience for viewers using ad blockers

Wikia is not accessible if you've made further modifications. Remove the custom ad blocker rule(s) and the page will load as expected.