"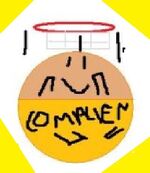 Doiiiiiiiiiiiiiing!" ~ Rowndabowt
Rowndabowt is a Sports-type Complien. It evolves from Slamm Dunkk and evolves into Dwibblerownd.
Appearance
He is a half basketball and half baseball with a bat and hoop for arms and legs.
Info
He is 2' 7" and weighs 38 lbs.
Trivia
He comes from the words round and about.
Gallery
Ad blocker interference detected!
Wikia is a free-to-use site that makes money from advertising. We have a modified experience for viewers using ad blockers

Wikia is not accessible if you've made further modifications. Remove the custom ad blocker rule(s) and the page will load as expected.