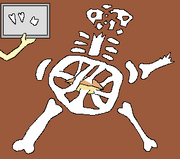 This spell is one of the forbidden spells that was written into the dark spell book
Poncrumina
. It causes any ordinary seed to grow into a monster instead of a plant. This spell is one of the most powerful plant spells ever. It caused widespread devastation after a large amount of death seeds were accidentally sold all around the world.
Creatures that know how to use this spell
Compliens
None
Humanoids
None>
Mogurian
None
Other creatures
None
Ad blocker interference detected!
Wikia is a free-to-use site that makes money from advertising. We have a modified experience for viewers using ad blockers

Wikia is not accessible if you've made further modifications. Remove the custom ad blocker rule(s) and the page will load as expected.