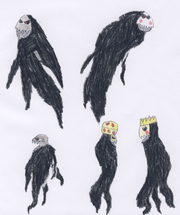 This article is a stub. You can help the Complipedia by expanding it, or the Humanoids will attack it.
Shadomasks are mysterious creatures that always wear masks. They have the ability to possess anyone. Unlike what most people think, they are actually quite friendly and are not evil.
Ranks
Shadomasks have distinct ranks. They are the normal Shadomasks at the bottom, Guardian Masks in the middle, and the Royal Masks at the top. Each rank plays its own part.
Ad blocker interference detected!
Wikia is a free-to-use site that makes money from advertising. We have a modified experience for viewers using ad blockers

Wikia is not accessible if you've made further modifications. Remove the custom ad blocker rule(s) and the page will load as expected.