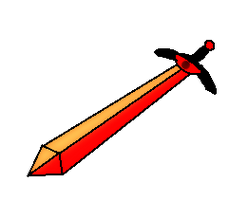 "Thy hand is not worthy to wield me"
Sirocells are swords that has eyes. It has a counterpart named Lirosell which is a shield. It is very powerful, and can slice a rock in half with one swing.
Info
Sirocells are very picky about who shall use them, and will burn the hands of those who would try an use them without their approval.
Trivia
It is unknown where it lives.
Gallery