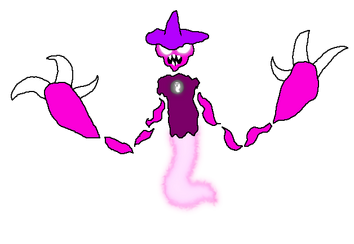 Sougic
is a Magic/Spectral-type
Complien
that is the soul of very powerful and malevolent Magic-type Complien. A lot of information about it is unknown.
Appearance
Sougics have floating, purple, slightly translucent spheres for their bodies and hands. A jagged growth protrudes from their round torsos, and their heads are similarly shaped spheres. They wear a worn-out purple magician's hat, have two white claws on each hand, and their spheres contain small, blue-green souls visible from inside the Sougic.
Info
Very little information has been found on the Sougic. It was discovered by an unknown explorer who happened upon one in a cave. With an old video camera, he documented some of the Sougic's characteristics, but was found and killed by the Sougic.
"I have come across a mysterious new creature in Ghighighighoast Cave. It looks like a bunch of purple spheres floating, wearing a wizard hat, and it has something pointy coming out of its chest. It's just floating around aimlessly, but - oh! It just eviscerated that animal! Now it's sucking the soul out of it! I must get a better look! Whoa! Gah! Ahhhhh! Yarrrgh! Glurk!"
The camera was dropped on the floor, and recorded most of the attack, but then the Sougic smashed the camera and threw it away. However, the partial clip was extracted from the intact drive by some different explorers with laptops, and the local area was walled off to the public.
Evolution
Sougic
This Complien does not evolve.
Trivia
There might be a pre-evolution or evolution of Sougic, but nobody has gotten close enough to find out.
Spells
Sougic's Moveset

Spell

Element

Effect

N/A

N/A

N/A

N/A

N/A

N/A

N/A

N/A

N/A

N/A
Gallery
Ad blocker interference detected!
Wikia is a free-to-use site that makes money from advertising. We have a modified experience for viewers using ad blockers

Wikia is not accessible if you've made further modifications. Remove the custom ad blocker rule(s) and the page will load as expected.