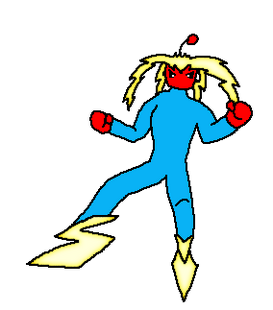 Sparkarate
is the electric fighter
Complien
.
Appearance
It has a blue body with boxing gloves for hands, lightning bolts for feet, and a red head with two lightning bolts and a red antenna.
Information
Sparkarates are violent and territorial. They climb to the top of trees and tall things to attract lightning, which they feed on and use in punches. They can pump a lot of electricity into someone with their punches and their kicks are almost like getting struck by actual lightning.
Growth

Sparkarate
This Complien does not grow.
Trivia
Gallery
Ad blocker interference detected!
Wikia is a free-to-use site that makes money from advertising. We have a modified experience for viewers using ad blockers

Wikia is not accessible if you've made further modifications. Remove the custom ad blocker rule(s) and the page will load as expected.