Bleeblooblaabliip!--Stopgoslowlight
Stopgoslowlight
is the traffic light Complien. It is the evolution of
Tralight
.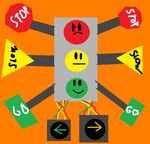 Appearance
It looks like a traffic light with detour lights for legs and stop, go, and slow signs for arms.
Info
It crosses the street very easily because it turns red so cars won't go and hit it. That's why the colors are reversed from its pre-evolution's to make it easier to cross.
Evolution

Tralight →

Stopgoslowlight →

Directolight
Trivia
Its name comes from stop, go, slow and light.
Gallery
Ad blocker interference detected!
Wikia is a free-to-use site that makes money from advertising. We have a modified experience for viewers using ad blockers

Wikia is not accessible if you've made further modifications. Remove the custom ad blocker rule(s) and the page will load as expected.