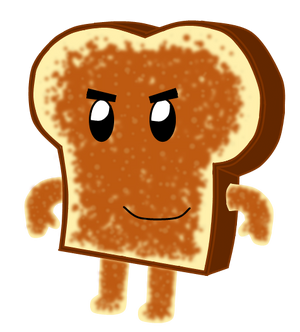 This article is a stub. You can help the Complipedia by expanding it, or the Humanoids will attack it.
Towstid
is a Food-type and Fire-type toasted bread Complien. They evolve from
Bredans
and evolve into
Jelly'ds
.
Appearance
Towstids look like slices of toasted bread. They have arms, legs, and a face.
Info
Towstids are tougher than Bredans, and can also control fire.
Evolution

Bredan →

Towstid →

Jelly'd →
PeeBee-N-Jay
Trivia
Their name is a variation of the word "toasted".
Gallery
Spells
Towstid's Moveset

Spell

Element

Effect

N/A

N/A
Ad blocker interference detected!
Wikia is a free-to-use site that makes money from advertising. We have a modified experience for viewers using ad blockers

Wikia is not accessible if you've made further modifications. Remove the custom ad blocker rule(s) and the page will load as expected.