A
Tridusk
is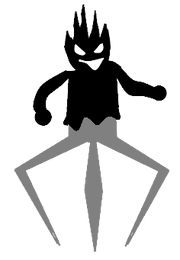 a three-legged complien which is half-consumed by a darkness substance.
Appearance
Tridusks have three gray spider-like legs. The rets of them are human-like, but are covered in darkness.
Info
Tridusks can spread their darkness to humanoids and other enemies, causing them to turn black and fade from existence.
Trivia
The name comes from "tri" meaning "three", and "dusk".
Gallery
Ad blocker interference detected!
Wikia is a free-to-use site that makes money from advertising. We have a modified experience for viewers using ad blockers

Wikia is not accessible if you've made further modifications. Remove the custom ad blocker rule(s) and the page will load as expected.