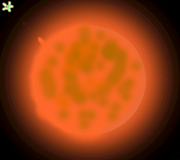 Moons
Corothaiouminz
==Info==
Volnotice is a planet that orbits its moon Corothaiouminz.
==Trivia==
Volnotice is a heated planet and the lowest its ever gotten is 102 degrees.
Volnotice is a planet mostly for fire-type compliens. If they weren't fire-type humanoids, compliens, or humans, they would probably die because its so hot.
Volnotice has gotten all the way up too 167 degrees once.
Soon the creator of volnotice(Pandaboy2) will probably write a story that has volnotice in it!
Picture coming soon!
NOTE: this is the first planet I have made so please don't be harsh or insulting.
Ad blocker interference detected!
Wikia is a free-to-use site that makes money from advertising. We have a modified experience for viewers using ad blockers

Wikia is not accessible if you've made further modifications. Remove the custom ad blocker rule(s) and the page will load as expected.