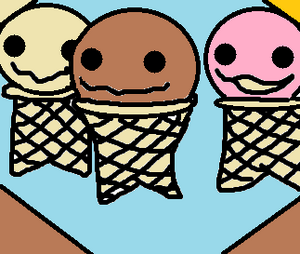 Yurms are Ice Cream Compliens in cones that have feet to let them walk. They have eyes and mouths on the ice cream. Yurms comes in three flavours; chocolate, vanilla and strawberry. It grows into Coldae. It is a Complien from the Creamy Ice family.
Info
The chocolate variety of Yurms is rumoured to sometimes have a chocolate chip coating. These are rare however, and have not been seen, confirmed, or verified.
Trivia
Their name comes from the word "yum".
Many other Compliens like to eat Yurms making them rare now days.